Services
The following services are available:
PHYSIOTHERAPY
Thorough one-on-one assessment in private treatment rooms
All follow-up appointments 30 minutes one on one
Education: regarding injury pathology and prevention
Home programs
MVA clients (Motor vehicle accident)
Acupuncture
Osteoporosis treatment and prevention
Manual Therapy
McKenzie MDT
Electrotherapy
Ultrasound
Personalized Exercise Prescription
Postpartum fitness and education classes
Low back treatment and prevention classes
PELVIC HEALTH PHYSIOTHERAPY
Please click here to read more about Pelvic Health Physiotherapy.
MASSAGE THERAPY
There are tremendous benefits to be achieved through regular massage therapy treatments from a Registered Massage Therapist. Whether your need is to have a moment of relaxation, reduce muscle tension or attain relief from chronic pain, a therapeutic massage can enhance your quality of life.
Massage therapy benefits people of all ages. While it benefits the injured, the ill and the stressed, the strength of massage therapy in preventing illness and conditions before they develop cannot be overlooked. Massage therapy can be used in the treatment of both acute and chronic stages of conditions.
A few examples of conditions for which massage therapy can prove beneficial:
Strains and sprains
Back, leg, and neck pain
Post-surgical rehabilitation
Sports injuries
Stress and stress related conditions
Strains and sprains
Therapeutic massage is an important part of your health maintenance plan, by:
Reducing or eliminating pain
Improving joint mobility
Improving circulation
Improving immune system functioning
Increasing lymphatic drainage
Reducing depression and anxiety
Reducing tension within muscles
Increasing body awareness
NOURISH DIETITIAN SERVICES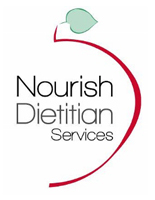 Nourish Dietitian Services has partnered with Good Practice Physiotherapy to provide custom nutrition therapy. There are many reasons to see a Registered Dietitian. You may benefit from seeing a Registered Dietitian if you would like to:
Manage diabetes, high blood cholesterol, high blood pressure
Manage gastrointestinal conditions such as irritable bowel syndrome, etc.
Manage food allergies and food intolerances
Reduce your risk of developing some diseases, such as diabetes, heart disease, and some cancers
In your initial appointment, your Registered Dietitian will take into consideration your medical history, nutrition questions/concerns, and current dietary intake. You will receive:
Thorough assessment, including body composition analysis
Custom resource package
Follow-up appointments will be arranged to suit your needs and schedule.
Other services available include:
Weekly meal plans
Computerized diet analysis
Please visit www.nourishdietitianservices.com for more information about how a Registered Dietitian can help you nourish your body with proper nutrition so you can lead a nourishing life!
PEDORTHIC SERVICES – CUSTOM FOOT ORTHOTICS


Kimberly Rau & Associates has partnered with Good Practice Physiotherapy to provide custom made foot orthotics in Kitchener, Waterloo and the surrounding area. We understand that our patients and the physicians we work with depend on complementary health care professionals who are qualified, competent, honest and ethical. Kimberly Rau & Associates team of Canadian Certified Pedorthists is committed to these standards, and is passionate about what they do!
Our pedorthists have Kinesiology degrees and as Canadian Certified Pedorthists have specialized education in the assessment, design, manufacture, fit and modification of foot orthotics. In addition, extensive training of footwear design, features, fit, function and modification is exclusive to our profession. We are members of The College of Pedorthics of Canada, The Pedorthic Association of Canada and The Ontario Kinesiology Association.
Exceptional Pedorthic Services at Good Practice Physiotherapy include:
Comprehensive personalized assessment
High-quality, individualized custom-made foot orthotics
Detailed biomechanical gait analysis
Specialized training & expertise in orthotic fabrication
Immediate onsite orthotic modification
Thorough footwear evaluation, education and modification
Because each patient is unique, we provide a thorough assessment to truly get to know an individual and their needs to provide recommendations that fit their lifestyle, work requirements and physical condition. To maximize the effectiveness of our treatment and products and provide comprehensive care, we work in conjunction with trusted health professionals including physiotherapists, massage therapists, chiropractors and physicians. Our team of Canadian Certified Pedorthists, led by Kimberly Rau, is dedicated to educating patients and an interactive patient relationship. We are committed to professional development and the quality of Pedorthic care across Canada, serving as a training facility for future Pedorthists and maintaining a high level of involvement with the Pedorthic Association of Canada.
Kimberly Rau & Associates takes pride in being excellent patient care partners and providers and would welcome the opportunity to provide you with exceptional service!
PERSONAL TRAINING and EXERCISE PROGRAM DESIGN

Thorough initial consult
Development of individualized exercise program including
cardiovascular, weight training and stretching components
One on one personal training sessions in Good Practice
Physiotherapy facility
Guidance and education on proper exercise technique
The key to a successful exercise program is that it is individualized.  Each program is custom designed to meet the needs of the client, taking into consideration; medical history, previous and current exercise levels, goals, time commitment and mode/equipment preferences.  Whether you are starting to exercise for the first time in your life, or are looking to achieve sport-specific performance goals, a program can be tailored to you.